Ah Shit, Here We Go Again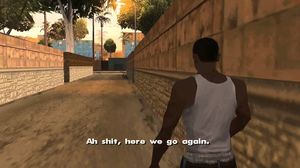 About
The "Ah Shit, Here We Go Again" meme derives from the ever-popular action-adventure video game series, "Grand Theft Auto: San Andreas."
Though the video game was created in 2004, the clip has only recently begun to gain traction. When YouTuber ZMOONCHILD posted the clip four years ago, it garnered over 147,000 views. Now, it's a wildly popular exploitable used in many contexts.
Origin
The "Ah Shit, Here We Go Again" scene has been in the opening scene of the "Grand Theft Auto: San Andreas" video game for over a decade.
The line is delivered by Carl Johnson, the game's protagonist. After being harassed and threatened by deceitful police officers, Johnson is thrust into an equally as distressing scenario. When Johnson finds himself in a crime-ridden neighborhood, the only words he can muster are "ah shit, here we go again." From there, the meme was born.
Meaning
The "Ah Shit, Here We Go Again" meme is used to express deep-seated distress. When conflicts are never-ending, or you can't seem to catch a break, the ah shit, here we go again one-liner adequately represents upset.
Clever individuals have used the scene to describe a Buddhist who's died and been rebirthed.
Examples
Popularity