All Right Then, Keep Your Secrets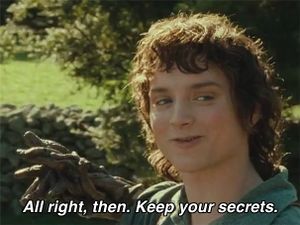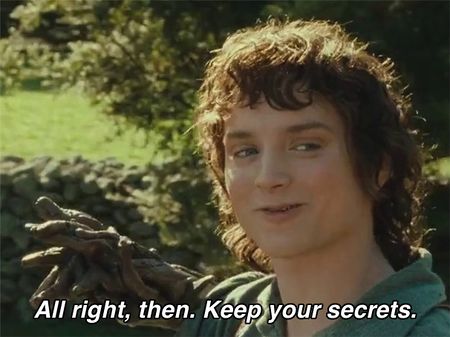 About
"All Right Then, Keep Your Secrets" is a meme derived from a screen capture of Elijah Wood as Frodo Baggins in The Lord of the Rings: The Fellowship of the Ring.
It shows Frodo smiling ominously at something outside of the capture of the image, with the caption "All right, then. Keep your secrets." It's worth noting that the film came out in 2001, but the viral sensation didn't start until June 2018!
Origin
The entire scene in which Frodo says the quote had been on YouTube for quite some time, but in mid-2017 the quote itself was isolated and posted. From there, a meme made of it - seen here - was made and spread rapidly on Facebook. The format proved popular, and so, as many of our favorite viral images are, was stolen immediately. It was spread on Twitter, where it also proved to be popular.
From there, Reddit users spread memes using this meme on various subreddits, allowing for a few of the images to actually hit the homepage of Reddit! The first use of it on Reddit bore the caption "When you ask a girl for her number at the bar and she tells you to go away", seen here.
Meaning
The image is usually paired with some other text, in order to be used as a humorous response within an anecdote where information is either actually withheld or perceived to be withheld. Outside of the format, the image itself can be used, primarily as a reaction image to any situation that may arise within social media spheres.
"All Right Then, Keep Your Secrets" isn't as extremely popular as it was in the summer of 2018, but it's still fairly common and it can be seen pretty regularly on Reddit, 4chan, and Twitter.
Examples
Popularity