Boardroom Suggestion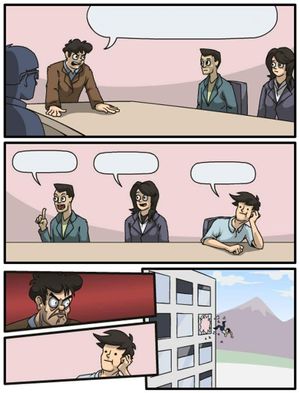 About
"Boardroom Suggestion" is a multi panel comic in which an executive is consulting his three employees for suggestions. The first two employees give "safe" and agreeable suggestions, whereas the final employee gives a more confrontational but honest suggestion. In the final panels of the meme, the executive glares at the last employee before throwing him out of the office window.
Origin
The original comic was posted in 2012 as a webcomic on a website called Hejibits and was originally called "Outlook Oust." In the original comic, the executive is discussing how to make the Wii U a valuable entertainment platform in a Nintendo boardroom. The first two employees suggest TV compatibility and Netflix. The third employee suggests the ability to playback DVDs.
In 2013, user created variants of this meme were spread via 4chan and Reddit. The comic later caught additional popularity via sharing on other social media sites such as Facebook.
Meaning
In the original rendition of the meme, the executive was asking for product or functionality suggestions. The first two employees' answers were company safe and therefore accepted, but the third employee's suggestion was often more closely what consumers wanted and suggested. In many of these cases, the suggestion was functionality that the real product did not have. As the comic became more popular, its use became more broad with the final employee being the voice of reason against the first two employees in varying ways.
In some versions, pop culture icons are placed in this comic to provide a humorous reenactment of a disagreement in a movie or series, as seen in this Jedi Boardroom Suggestion example. This comic has also been used as hyperbole in modern culture and news.
Examples
Popularity