Bong Joon-Ho Making Oscars Kiss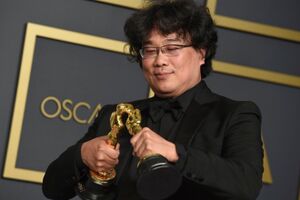 About
The meme of "Bong Joon-Ho Making Oscars Kiss" refers to a set of image macros showing Bong Joon-Ho, director of 2019's "Parasite," taking the two Oscars he earned for that film during the 2020 Academy Awards and posing them so that it resembled two people kissing.
In February of 2020, the image went viral as an object-labeling meme on multiple forms of social media.
Origin
February 10th, 2020, the morning after the events of the 2020 Academy Awards, saw Twitter user @soalexgoes share a pair of pictures where Bong Joon-Ho was manipulating his Oscars into a moment off passion and adding the caption "i love him." The image would go on to accrue nearly 200,000 likes and nearly 35,000 retweets on just that day alone.
Meaning
The image has since been used to depict some moment where two great things are brought together, with each award having some word or phrase written over them to signify their relevance to the union.
Some versions of the image have even gone as far as to put a word or phrase over Joon-Ho's face, framing him as the reason the two categories are coming together, such as labeling him "The Academy," and labeling his Oscars as "the fans" and "Parasite winning Best Picture."
Another example is one award being labeled "Hollywood" and the other "Reading subtitles."
Examples
Popularity