Bro! Not Cool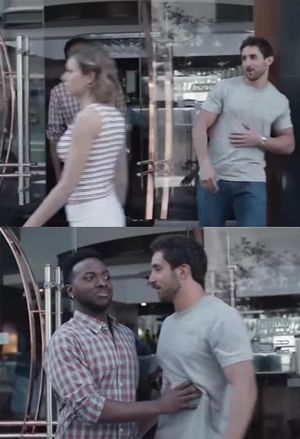 About
"Bro! Not Cool" meme is a derivative from one of Gillette's marketing campaigns titled "We Believe: The Best Men Can Be". A two panel screenshot of the advertisement was captured by Reddit at the start of 2019 for use as a meme template.
This campaign generated over 100,000 comments throughout several social media platforms that were for or against the advertisement. The negative comments were not in regards to their stance, but based on how it was implemented with their product.
Origin
Gillette's YouTube channel posted a media advertisement on January 14, 2019 titled "We Believe: The Best Men Can Be". One of the scenes captures a man trying to make his way over to a woman passing by him while another man prevents him from doing so. This scene was used as an object-labeling template for memes.
Meaning
The YouTube post intended to add to the social media #MeToo movement which stands against bullying, sexual harassment, and abuse. The various scenes depicted these negative behaviors.
Gillette wanted to convey that there should be an end to those behaviors. There are some behaviors that should be groomed. Some of their audience was left wondering how men shaving products correlate with their message.
Presumably the bearded rugged look symbolizes the barbaric side of a man. When they appear clean shaven they convey a passive appearance. Many question if Gilette realizes that appearances can be deceiving.
Examples
Popularity