Call An Ambulance But Not For Me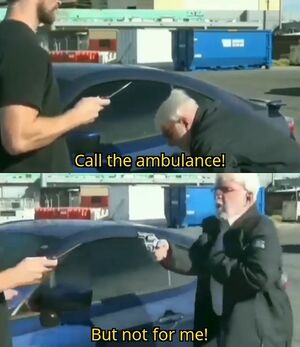 About
"Call An Ambulance But Not For Me" is a popular meme based on a video posted by Las Vegas Gunfights. The clip is an advertisement for Silver Series Self-Defense, a class intended to teach self defense to residents aged 65 and older.
In this clip, an elderly man surprises a would-be attacker by yelling out "Call an ambulance!" The man then pulls out his own gun and continues with "but not for me."
Origin
The video spread to YouTube and Reddit with many upvotes and views. "Call An Ambulance" became a popular meme among online gamers to brag about their accomplishments. Other users altered the stills of the "Call An Ambulance But Not For Me" viral image to poke fun at hot topics happening in the world.
Meaning
The popular meme is meant to show competition and bragging rights for a variety of topics. While some are seen as weak, they're still capable of surprises. The hilarious acting and outrageous dialogue of the original video certainly created an instant viral response to be interpreted differently by everyone.
Examples
Popularity