Cha Cha Real Smooth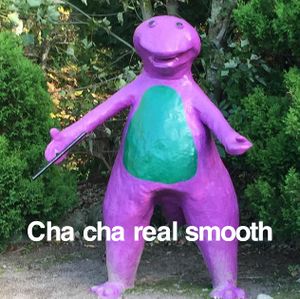 About
"Cha Cha Real Smooth" is both a catchy line from Mr. C The Slide Man's one-hit wonder, "Cha-Cha Slide," and a hilarious meme involving an awkward statue of Barney.
Barney, a big purple dinosaur starring in "Barney & Friends," is known for his singing, dancing, and wisdom. Most children who grew up with Barney learned their ABC's thanks to this lovable dino.
Unfortunately, an impressionist desecrated this fond image of Barney with their statue rendition of him. Barney's stance is so strange that it appears he's about to break out into the cha-cha slide.
Origin
Dating back to October 28, 2015, the Cha Cha Real Smooth meme graced the internet after VICE, a media company, published an article entitled "I Tried To Relive My Youth, And All I Got Was Sad."
Within the article was a picture of statue Barney. The writer tells of their less than satisfactory visit to Storybook Glen, a theme park located in Scotland. The park is known for its models of fictional characters including Shrek, Humpty Dumpty, and Homer Simpson.
The jury's still out on whether or not the artistry is intentionally bad. When the public got hold of the picture, viewers couldn't help but poke fun at Barney's stiff and unusual posture. With his arms out wide and legs far apart, the overall statue looks foolish.
Meaning
In essence, the Cha Cha Real Smooth meme is exactly what it looks like: a picture of an uncomfortable Barney ready to bust out dance moves similar to those you'd find in the "Cha-Cha Slide" music video.
Examples
Popularity