Dean Norris Reaction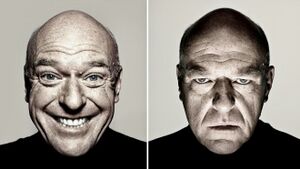 About
Reaction images are among the most popular forms of memes; they pretty much serve the same purpose as emoticons, and internet users seem to love them despite the additional bandwidth they consume.
There is something satisfying about posting an exaggerated reaction on a social media discussion thread, but using the right image is crucial. Known faces with theatrical gestures make the best reactions, and this is certainly the case with the "Dean Norris Reaction" meme.
Origin
Dean Norris is a veteran Hollywood actor who is better remembered as DEA Agent Hank Schrader in the prestige television series Breaking Bad and Better Call Saul, which unfold in the same fictional universe. As a classically trained actor, Norris really knows how to project expressions; this was made evident in a series of portraits captured by photographer Marco Grob in 2014, which were uploaded to Instagram.
Norris enjoyed the superbly composed black and white photos, and he posted two of them to his Twitter account in mid-2014. Three years later, an Instagram account dedicated to Breaking Bad posted a two-panel image of Norris looking very happy on the left and quite different on the right.
The image did not become a meme until March 2021, when a soccer fan loyal to Atletico Madrid used it to react to his club's performance in the UEFA Champions League. In early April 2021, the image began appearing numerous times on Reddit as a reaction to anime series and bodily functions. The spread of Norris' opposing facial expressions turned viral in just a few days.
Meaning
This is a pretty explicit reaction image. You are expected to label something that makes you happy on the left and something that makes you cranky on the right.
Examples
Popularity
See also