Dr. Heinz Doofenshmirtz-inator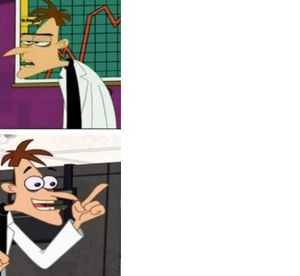 About
A peculiar scientist with many quirks, Dr. Heinz Doofenshmirtz is the legend behind the "Dr. Heinz Doofenshmirtz-inator" meme.
Dr. Heinz plays a prominent role in "Phineas and Ferb," an American animated musical comedy series. One of Dr. Heinz's oddities is that he likes to tack on "-inator" to the end of words.
Viewers maintain that this is his attempt at spicing up otherwise dull words.
Origin
In true meme fashion, Reddit is credited with bringing this image macro to life.
More specifically, Redditor YoLeo_ was the first to make a two-panel image of Dr. Heinz that went viral.
In the first picture, Dr. Heinz appears dispirited while standing next to the word "time machine." In the second image, his spirits are noticeably lifted after coining the term "time travel-inator."
True "Phineas and Ferb" fans appreciate the levity behind this well-crafted joke. The meme is no doubt a nod to his peculiarity. YoLeo_ received 16,000 upvotes after posting the image to his feed.
Meaning
The Doofenshmirtz-inator template has since taken the Reddit community by storm. Some popular and comical "-inator" terms include "repost-inator" and "youngling kill-inator." The former is used to express Instagram. The latter puts a Doofenshmirtz twist on lightsabers.
Examples
Popularity