Draw 25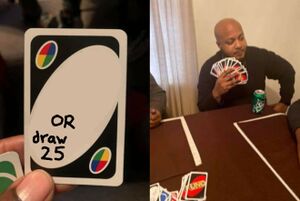 About
Memes derived from popular culture and media are pretty cool, but fully original memes can be even better as long as they are clever. In early 2020, the "Draw 25" meme made a splash for its smart originality and the fact that it is based on a traditionally American card game.
Uno is a card game with a simple goal: get rid of as many cards as possible until you are down to one. From the deck, you may either draw or pass wildcards to your opponents so that they end up with too many, all the way to 25. The Draw 25 two-panel image meme features one wildcard and a pensive man holding a large hand of Uno cards.
Origin
The first version of Draw 25 made a big splash on Twitter, where it amassed more than 300,000 retweets in just a few days. On its debut day, this meme made it to Reddit with two different versions that elicited thousands of positive votes. Bythe time Draw 25 crossed over to Instagram on January 8, it had already become a popular meme.
Meaning
When you play Uno, drawing 25 cards could signal the loss of the game; however, many other things could be worst. Draw 25 is all about being presented with tough choices that may have a humorously obvious outcome.
The original version had it perfect: Would you prefer to send your ex an embarrassing text message or draw 25 cards you know you will never get rid of? In many situations, accepting a certain loss is the best option.
Examples
Popularity