Fitness is My Passion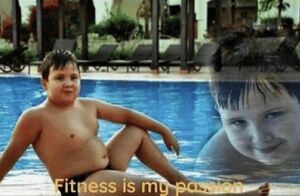 About
The meme known as "Fitness is My Passion" or "Boy Whose Passion is Fitness," is a reactionary image of an overweight boy lounging by a resort pool, joined by a ddouble exposure portrait to his right.
The image is usually applied as a reaction to express a senses of laziness or to sarcastically espouse the benefits of fitness and health.
Origin
The meme's source photo seems to come from a family photo taken within the egyptian resort town of Sharm el-Sheikh. Speculation as to when the photo was taken pins it down to some point in time within the year 2012.
The image's first appearance online seems to be December 7, 2013, occurring within a Tumblr post by "mosquewifi." This initial post garnered 45 likes and reblogs.
Meaning
As mentioned in the About section, this meme is all about conflicting ideas about health. Examples of its usage include the following:
Listing off a sizable amount of junk food that ends with a diet soda.
Devouring a lot of fried food but eschewing milkshakes because they are unhealthy.
Suggesting you like salads because they are so healthy for you but eating 3 in one go because there is never enough ranch salad dressing.
Deciding to order three extra large pineapple pizzas because fruit is a healthy food.
Examples
Popularity