Good Question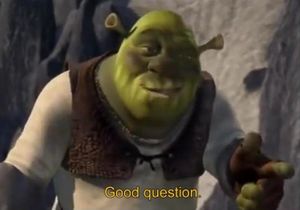 About
Shrek, the 2001 box office blockbuster created by DreamWorks Animation, has managed to maintain popular use in the meme community over the past several months. As of right now, it seems as if Shrek memes aren't going anywhere but up.
The "Good Question" meme is a single still of Shrek, taken from the 2001 film of the same name, features Shreak with a blast of soot or another dark grey or block material all over his bright green face.
Origin
As mentioned above, the "Good Question" meme is thought to have first been used just two days ago, on Monday, April 15, 2019. A Reddit user named u/egarciat posted the image macro template of the animated figure, featuring a yellow caption that simply states "Good question."
This still is taken from Shrek, particularly the part where Shrek had just managed to scoop Princess Fiona up and evade capture from the antagonist dragon in the movie. Seemingly unappreciative to Shrek, Fiona nearly immediately asked Shrek why the antagonist Lord Farquaad wasn't the one that rescued her.
Shrek, very clearly upset with Fiona's unappreciation for what he did, said "Good question. You should ask him that when we get there."
Meaning
Take the following real-life example to better understand this macro.
This image macro of the Internet's favorite ogre was first pushed to widespread popularity by u/ThiccSandwich69, a Reddit user, who captioned the picture as, "When mom asks why your homework folder is more than 10 terabytes."
Most other uses of the image so far have been punch lines to creators' captions.
Examples
Popularity