Happiness Noise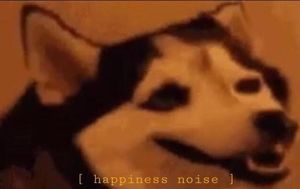 About
"Happiness Noise" features a blurred photo of a husky mid-sneeze with the caption "Happiness Noise". The image was taken as a screenshot from viral video. Once the image went viral, the meme became a catch-all for expressing joy along with a "descriptive noise".
Origin
The video in question came from a popular Vine. Posted in 2015 on August 6th by user joyeahern, the video of the hilarious sneezing husky had a slow climb to popularity. Over four years it amassed more than one million loops. Once the video made it to YouTube, it gained around 227,000 views. Below is a new video.
The video and the picture made it to Reddit on October 27th in the /r/memes subreddit in a post by Brainstain. This post gained more than 330 upvotes in a four month period. The image was reposted to MemeCenter by Brainstain, as well as their social media platforms on November 6th.
Meaning
Happiness Noise is a feel good meme that is generally used to demonstrate undue happiness when things go well in our lives. The husky at the center of the blurred image looks perfectly overcome with joy. Users that relate to these feels have found solace in using Happiness Noise for all their joyous occasions.
Though it has many positive uses, Happiness Noise can be used when someone is feeling less-than-satisfied. In many cases, Happiness Noise can be used in the event that someone is expecting one outcome, only to find the results aren't what they were expecting. While things aren't as bad as they could be, they aren't quite as good either. Oftentimes, these versions of the meme replace "happiness" with "sadness" or any other descriptor.
Examples
Popularity