Hide The Pain Harold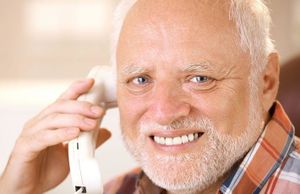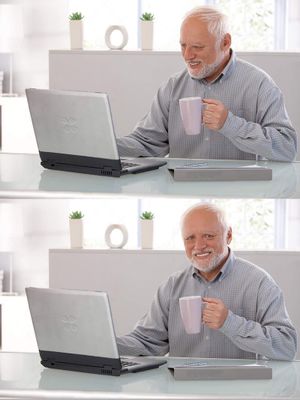 About
"Hide The Pain Harold" or "Maurice" is a stock photography model who has gained popularity as a meme thanks largely to his unique smile, which seems to emulate someone who is suppressing discomfort, disappointment, or sadness.
Thanks to the sheer number of images which feature "Harold," the meme became extremely popular in little to no time. In 2016, the man in the images came forward, revealing that he is a stock photo model from Kőszeg, Hungary named András Arató. Since then, Arató himself has become somewhat of a celebrity, with many people reporting real-life encounters with him while traveling abroad.
Origin
The first known usage of a "Harold" photo for a meme or joke was on Facepunch on September 13th, 2011. Forum user Greene72 posted stock photos with "Harold," resulting in a number of comments from his fellow users. Just one month later, a Facebook page for "Hide the Pain Harold" was created, but it was eventually overshadowed by a page titled "Maurice," which came about on January 1, 2014 and currently has 10K likes.
Also in 2014, various Harold stock photos were used in a tribute thread on 4chan, where users created a story about an unhappy man making a living as a stock photography model. Other contributions to the spread of Harold's memes include Imgur user somesh*tbag, who took the quotes from the 4chan thread and compiled them into a gallery of memes, and Youtuber ChinnyxD who took 4chan's story and recited it via text-to-speech in one of her videos.
Meaning
"Hiding the pain" is a reference to someone trying to put on a brave or happy face despite some sort of internal adversity, be it disgust, pain, disappointment, or sadness. As such, many of the memes that involve Harold's photos focus on someone trying to smile through bad news or to place the character in some sort of unfortunate-but-hilarious situation.
Examples
Popularity