I Am Aware of the Effect I Have on Women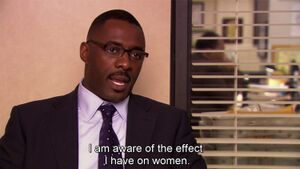 About
The "I Am Aware of the Effect I Have on Women" meme involves a saying from a character on The Office who is known for charming women who work in the office without trying.
Origin
The Office, particularly the episode "Two Weeks," is where this meme originated from. Idris Elba, a famous English actor, played the character Charles Miner, who stepper in as manager of the Scranton branch of Dunder Mifflin, the fictional paper supply company that the popular television series is based around.
Charles Miner, although he was only portrayed in a few episodes of The Office, was notorious for his charming effect on the women who worked in Dunder Mifflin's Scranton branch. Many of them quickly fell in love with the character played by Elba even though he was all about doing business and not at all about engaging in personal pleasures inside the workplace.
On Aug. 29, 2019, Reddit user u/noodlepoodle1 created the "I Am Aware of the Effect I Have on Women" meme as we know it by sharing a still of the moment with the caption of "When you hold the door open for a girl and she smiles at you for 0.069420 milliseconds."
Meaning
People use this image macro to jokingly lay claim to their nonexistant ability to charm women even without trying.
In actuality, people who make their own versions of this image macro almost certainly aren't as charming as the character of Charles Miner.
Examples
Popularity
See also