If Those Kids Could Read They'd Be Very Upset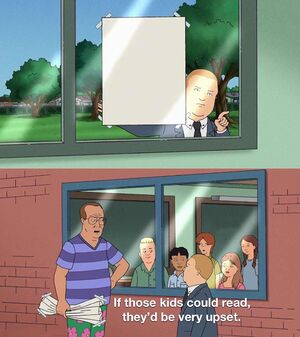 About
The meme known as "If Those Kids Could Read They'd Be Very Upset" is taken from a rather notable line off dialogue spoken by Principal Moss from "King of the Hill."
Screen shots of Moss speaking this line have been reworked as image macros with the goal of insulting the intellect of the audience for believing something in particular.
Origin
The King of the Hill episode "Born Again on the Fourth of July" first aired on April 14, 2009. The episode involves Bobby Hill deciding to worship at a different church from his parents.
When he decides to protest at a local school with his new gospel, he holds a sign up against a window that begs the kids to repent as sinners to avoid going to hell.
Principal Moss, the teacher of the class, a class for non-English speaking students, comes up to Bobby and utters the line that gives this meme its punch.
Meaning
As mentioned in passing within the About section, this meme is all about presenting facts that are aimed at easily influenced people.
Examples
Popularity