Jason Momoa Sneaks Up on Henry Cavill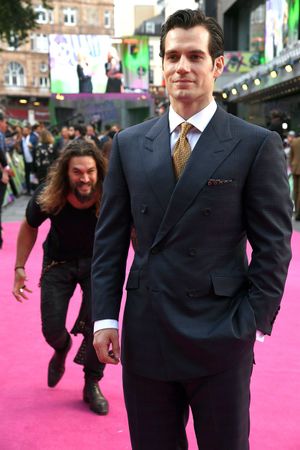 About
This meme is based on a photograph taken at a movie premiere. It shows actor Henry Cavill standing in the foreground in a double-breasted suit, facing out of the picture. Behind him, his fellow actor Jason Momoa, dressed much more casually in a T-shirt and biker pants with a big wallet chain, is approaching while crouched over, hands spread and fingers clawed. Cavill does not appear to be aware of Momoa's presence.
Origin
The original photograph was taken August 3, 2016, outside of the premiere of the superhero movie Suicide Squad. Although neither Momoa nor Cavill are in the film, they both have roles in other movies based on the DC Comics universe. Momoa has played Aquaman in Justice League and Aquaman, while Cavill played Superman in Justice League and several other movies.
The picture has been used as a base image for various memes posted on Facebook, Reddit, and Imgur in 2018.
Meaning
This meme derives its humor from the contrast in appearance between the two men. Cavill is polished and posed in an expensive suit and neatly coiffed hair, while Momoa is shaggy-haired, bearded, and casually dressed, with a mischievous expression. Cavill is clearly oblivious to Momoa, whose pose suggests he's ready to pounce and tackle him.
The exact meaning of the meme depends on what labels the creator applies to Cavill and Momoa, but the posing of the image suggests a sudden, unexpected attack on a completely unprepared target.
One version of the image has Momoa holding a mustache in his hand, which is a reference to the fact that during the filming of Justice League, Cavill had grown a mustache for another movie role and it had to be digitally erased while he played Superman.
(Incidentally, in the real world there was no "attack" — Momoa just hugged Cavill.)
Examples
Popularity