Listening to Trash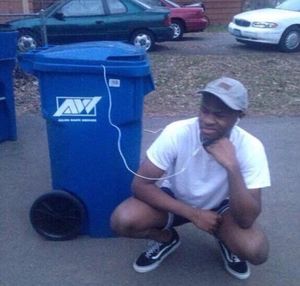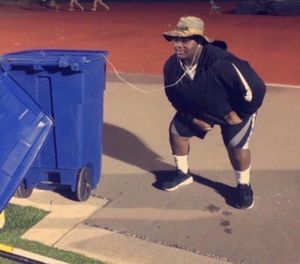 About
"Listening to trash" is a popular meme that refers to photographs of men appearing to be listening to music through running wire earbuds through trash cans. This meme comes from an image posted on Twitter in 2014 but did not actually become popular until 2017.
Origin
@HipHopStrt posted the first known image that this phenomenon originates from on Twitter on May 15, 2014. The photo is of him wearing earbuds, squatting next to a nondescript blue trash can with the wire running into the trash can as if listening to music. He captioned it, "Me listening to OLAMIDE and WIZKID".
The image did not become popular and spread as a meme until late 2017 when it started to appear on various platforms outside of Twitter. Users first began to use it as a way to criticize music and then it spread to everything and anything, including politics and various other opinionated topics.
Meaning
The generally accepted usage of this image is to indicate that a certain song, band, or musical artist is so terrible that it's literally trash.
There are also many instances of it being used to comment on capitalism (the captions typically reading something similar to, "me listening to people defend capitalism" or "me listening to my capitalist propaganda")
Examples
Popularity