My Time Has Come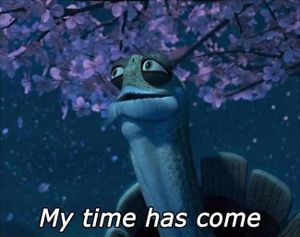 About
"My Time Has Come" is a meme that features a character from Kung Fu Panda, Oogway, saying the phrase "My time has come."
On popular social media platforms like Reddit and Instagram, people will often use it in reference to someone who is about to die or they will black-out parts of the text to completely change the meaning of the image.
Origin
Kung Fu Panda, which is the movie that contains the image, was released in the June of 2008. The image was taken from a scene where the character Oogway ascends to his next life and leaves the physical world. The specific image can be seen in this YouTube clip at the 2:15 mark of the video.
The meme itself didn't see use until a decade after the movie's release in 2018. The first use of it comes from Reddit user JesusStalin1945 who posted the image with a caption relating to Africans hearing about starvation. It received 70 up-votes and has two comments.
Later on, people began doing their own takes on the image by changing the caption and/or blacking out parts of the subtitle.
Meaning
People often use the meme to show the acceptance of their demise and/or another person's demise; Usually, the image will be under a caption relating to a popular video game enemy accepting their demise.
Other people simply edit the subtitle and Oogway to match a specific caricature or action. Some just edit the subtitle though to match a caption, focusing on pure hilarity of Oogway and his facial expression in the image.
Examples
Popularity