Nobody Is Born Cool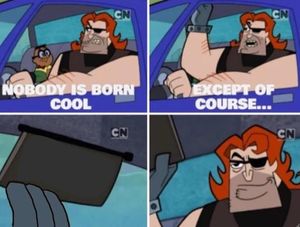 About
"Nobody Is Born Cool" is a meme that was created out of a scene from the Cartoon Network cartoon series The Grim Adventures of Billy & Mandy. In a scene from the episode "Irwin Gets a Clue", a character named Hoss Delgado assures Irwin that no one was born cool, except for one person. Since then the scene has been used in a variety of edits.
Origin
In the episode, Hoss Delgado is talking about his backstory to stress the point that nobody is born cool. However, he then states that there was a single exception to that rule. He then fondly pulls down the visor in his car to reveal a picture of Cliff Voorhees a background painter on "Grim and Evil".
Over a decade after the episode's initial release, edits of the scene started becoming popular on Memedroid and certain Facebook communities in 2016. Most of the earlier edits consist of pictures of celebrities getting edited into the scene in place of the elderly man.
Later on, the meme spread to other communities as well. One of the first that it spread to was several Reddit communities. Two major communities to utilize the format include the Zootopia and Persona Reddit communities. The format started being popular again in March of 2019 when Reddit user TheFlashGod uploaded a new edit of the format to Reddit. Afterward, it was quickly edited by Reddit user AvaTyler to fix a continuity error where Hoss Delgado's glove disappeared in the middle of the scene.
Meaning
Most edits to this scene are placing the picture of another character or celebrity in the place of the elderly man. This is done to convey that the person edited into the scene is extremely cool. This is done with real people and celebrities as well as fictional characters.
Examples
Popularity