Now All of China Knows You're Here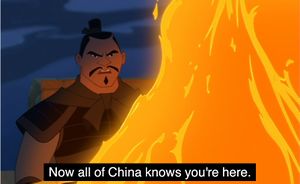 About
This meme was pulled from the Disney film Mulan, released in 1998. It depicts a Chinese soldier holding a torch that had recently been used to light warning pyres as the Huns successfully scaled the Great Wall.
The soldier then warns Shan Yu, saying, "Now All of China Knows You're Here".
Origin
As a meme, the image first began to surface in 2008 thanks to Ed Warkentin. Views were mediocre at best, only gaining 195,000 views over eleven years.
The GIF began growing in popularity in 2012 when it was introduced to Tumblr via petitetiaras sharing of a post that made it appear as though the soldier announced the event through Twitter. This is an interesting comparison seeing as the warning lights would have played the role of an extremely specialized Twitter in the time the story takes place.
Three years later another Tumbler user, failedyoursavingthrow, would recaption the meme. This interpretation would later be uploaded to Reddit, where it received nearly unanimous approval that would only be surpassed in February 2019 by Redditor bartu_neg.
Meaning
Now All of China Knows You're Here is a reaction macro predominantly used to express making one's presence known, most often unintentionally.
For instance, bartu-neg's captioning of the image is "When you open porn in the middle of the night but you forgot to turn down the volume."
Instances like this or others where one's actions make all of those around them painfully aware of their presence, and often their failings are a perfect fit for the GIF.
Examples
Popularity