Parry This You Filthy Casual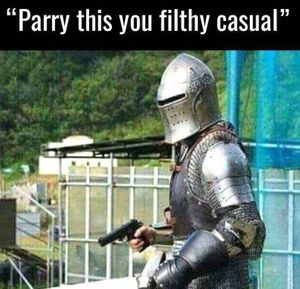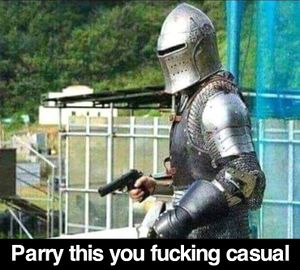 About
"Parry This You Filthy Casual" (or "Parry This You Fucking Casual") is a meme in which an image of a knight holding a firearm is edited to have the words "Parry this you filthy casual" over it. This phrase is mostly used in reference to the parry function in the notoriously difficult videogame Dark Souls.
Origin
The first instance of this meme appeared on February 6th, 2018, when an Imgur user posted it to the site. Since then, images of knights with firearms with the phrase edited over it have been posted on various different websites such as Funnyjunk and 9GAG.
In March of 2019, the original image with some additional text above it was posted to Reddit again by Reddit User Driver_Vincent. The user added in a reference to a scene in an Indiana Jones movie where the titular character uses a gun in a sword fight. Since then, various different kinds of edits to the image have been made referencing anything from wars to various different videogames.
Meaning
The meme is typically used either as a joke on its own or to reference some other form of media. It's generally meant to show that something is an overwhelming force that can't be dodged or countered.
Examples
Popularity