Running Away Balloon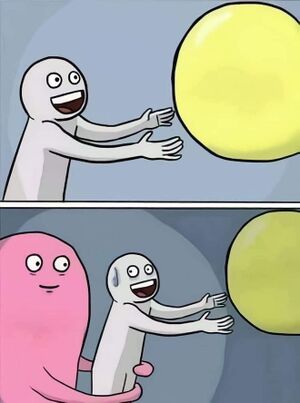 About
Before becoming a viral sensation, the "Running Away Balloon" meme was featured in an online comic series.
The image features a grey character, a yellow balloon, and a pink figure. The grey character is attempting to grab the yellow balloon, but the pink figure is holding him back, rendering his efforts futile.
Origin
Superlmer, a Facebook user and webcomic enthusiast, shared the meme to social media on April 21, 2017.
In the original image, the yellow balloon represents opportunities, and the pink figure embodies shyness. In other words, it's shyness that's preventing the subject from exploring opportunities. The post was a hit, garnering over 158,000 shares and nearly 7,300 comments.
Two short weeks later, the funny photo found its way to Twitter's platform. The image became so popular that it was adopted into foreign meme cultures.
Meaning
The image is used to depict situations in which a person wants something but can't obtain it because of numerous setbacks.
For instance, a guy wanting to play video games but not being able to because his girlfriend is dragging him into a shopping outing. Another relatable example includes being unable to find a healthy balance between personal life and work due to unreasonable overtime hours.
Examples
Popularity