Ryan Reynolds Between Hugh Jackman and Jake Gyllenhaal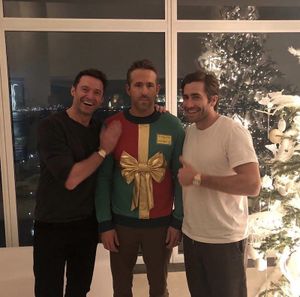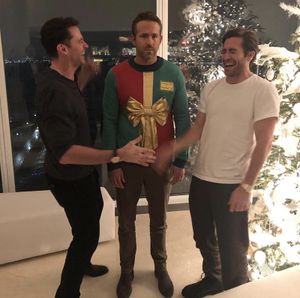 About
"Ryan Reynolds Between Hugh Jackman and Jake Gyllenhaal" is an object-labeling meme involving all three actors standing in close proximity to one another.
There are two variations of the meme, one image with Jackman and Gyllenhaal laughing as they move to shake hands, and another where Jackman and Gyllenhaal smile and pose on either side of Reynolds. In both images, Reynolds stares forlornly at the camera.
Origin
The images in question were first posted by Reynolds to his Instagram account on December 20th, 2018 with the following caption: "These f**king a**holes said it was a sweater party."
Reynolds was apparently tricked by Jackman and Gyllenhaal into wearing an ugly sweater at an otherwise normal holiday party. The images document his ensuing humiliation. In just four days, over eight million people had viewed the post.
Meaning
While the meme has been used in several different ways, the most common application is to label Reynolds "Me" and connect his despondent mood to negative things that Jackman and Gyllenhaal have been labeled with.
For example, Reynolds could be labeled "Me" while Jackman is labeled "Anxiety" and Gyllenhaal is labeled "Depression." Therefore, Ryan Reynolds Between Hugh Jackman and Jake Gyllenhaal is usually employed by people trying to humorously express their emotions about something uncomfortable or frustrating.
Examples
Popularity