Screaming Jake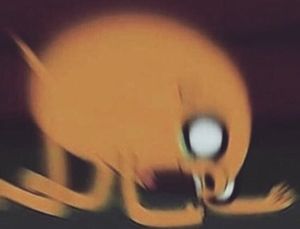 About
"Screaming Jake" or "Jake Bit By a Spider" is a series of meme videos and images depicting Jake the Dog letting out an apparent scream in reaction to being bit by a spider. The image versions of these posts depict Jake down on his knees and elbows, fists clenched, with a pained expression and tears in his eyes.
Origin
The image from which the meme is based is from the American television show: Adventure Time. In the scene, Jake The Dog (voiced by John DiMaggio) and Finn The Human (voiced by Jeremy Shada) are attempting to sneak noiselessly through a room when a spider lands on Finn's shoulder; Finn flicks the spider from his shoulder and it lands on Jake and proceeds to bite him in the arm, resulting in Jake letting out a painful, silent scream.
The humor of the relatable reaction is enhanced by the dramatic nature in which Jake mimes his scream.
Meaning
The content produced out of the "Screaming Jake" or "Jake Bit By a Spider" meme comes in two major categories. The series of videos produced from this scene depict unaltered video from the scene, but superimpose various other screams and scream-related sounds over the original silent scream to humorous effect. The series of images produced, however, play on the image of Jake, crouched to the floor in a painful, silent scream, to convey a hyperbolic reaction to a painful realization. These images often accompany posts or have text superimposed over the image.
Examples
Popularity