Staring Avatar Guy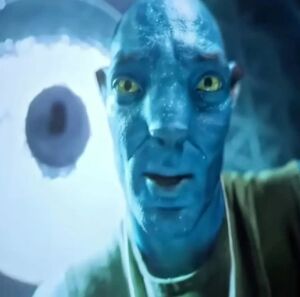 About
"Staring Avatar Guy" is a reference to a screencap from the 2022 film Avatar: The Way of Water. In the screencap, the character Lyle Wainfleet wakes up the villain of the movie, Colonel Quaritch, who was played by Stephen Lang, in a hospital bed after his consciousness was transferred into a Na'vi. After having top and bottom captions added to it in early 2023, which relayed pun-related jokes with straightforward punchlines such as "Road work ahead?," the image macro quickly rose to prominence and became a notable meme. I really, really hope that it does," amongst other things.
Origin
The film Avatar: The Way of Water premiered on December 16, 2022, in the United States. In one scene, Colonel Quaritch, the film's antagonist and villain, awakens as a Na'vi (the blue aliens from Avatar) in a hospital bed. Lyle Wainfleet, a male Na'vi character, was shown looking down on him while he lay in a hospital bed, illuminated by a bright medical light above and behind him.
Screenshot of the aforementioned scene, in which Wainfleet's face is clearly visible and he is staring directly into the camera, as posted by TikToker @ienykid on January 7, 2023. A TikToker named @ienykid posted a series of photos over the course of two months with the caption, "next in line for ugliest character in the movie (spider being first in line) #musty #jakesully #neytiri," to which over 1.2 million people viewed and 226,800 people liked.
Meaning
The question-and-answer format is utilized in this meme that only has one panel. Typically, some question like "Hungary?" is written on the top of the image, and the answer "Then eat something" is written below it.
Examples
Popularity
See also