Teenage Mutant Ninja Turtles and Splinter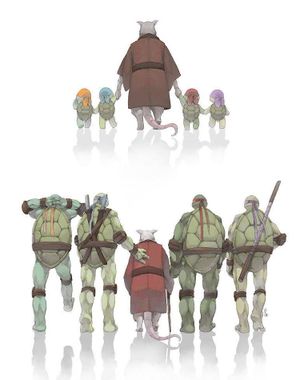 About
"Teenage Mutant Ninja Turtles and Splinter" meme showcases Leonardo, Donatello, Raphael and Michaelangelo, the four turtles, and their rat sensei and father figure, Splinter, also known as Hamato Yoshi in some versions of "TMNT" canon.
Origin
The illustration was created by a "Puna Nezuki," a Japanese artist with a particular fascination for the turtles, and was uploaded to their Tumblr account on January 22, 2017 with the title of "Father."
This particular illustration consists of two group images. The top image features a young Splinter leading his four young sons while holding hands. The bottom image keeps the five characters in the same positions but shows the boys all grown up, three-fingered hands on each other's backs as they head into the distance.
Meaning
The image gained memetic status by comparing the father figure to a quartet of derivative things that have gone on to greater things than the parent while also acknowledging the significance of the "parent."
Variations of this image have showcased the rise and shift of things like the following.
Cryptocurrencies, with BitCoin serving in the role of Splinter.
Mobile phone producers.
Internet browsers.
Memes like cat faces and "updog."
Adult entertainment websites like "Playboy" Magazine's web presence.
How the Roman Empire broke up into Italy and other countries.
In short, this particular image is the perfect way of showcasing the transition of time within a niche in a respectful, maybe even wistful, manner.
Examples
Popularity