Tom Cat Reading a Newspaper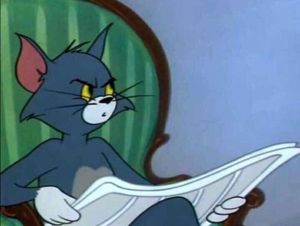 About
This is a meme which depicts the classic cartoon character "Tom Cat" from the popular cartoon Tom & Jerry reading a newspaper. The picture reflected shows Tom Cat seated in a chair reading a newspaper intently.
Origin
The meme originated from the 1956 episode of Tom and Jerry, "Down Beat Bear." The image conjointly began seeing use in image macros in early 2017 with usually jumpy captions.
Meaning
Once you view the picture it will depict Tom Cat looking at a newspaper and then quickly glancing over to the left as though he was distracted by some unknown object. Tom & Jerry is a very popular cartoon which entertained what many would call the older generations. Many of the younger children of today would either have been introduced to this cartoon character via either parents or grandparents. There are so many fond memories many parents, as well as grandparents alike, would be able to recall with little effort given how widespread this popular cartoon once was.
Generally, it's just funny to laugh at obvious stupidity.
Examples
Popularity