Toothless Presents Himself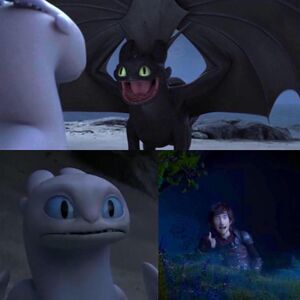 About
The meme "Toothless Presents Himself" is taken from the DreamWorks Animation movie, How to Train Your Dragon: The Hidden World.
It is a three panel strip containing an image of a smiling black dragon (Toothless,) a white dragon that appears to be alarmed, disgusted, or crestfallen and finally a young man (Hiccup) who is smiling and giving the black dragon encouragement in the form of a thumbs up sign.
The image is available online for users to add their own text to the image.
Origin
Taken from the 2019 movie How to Train Your Dragon: The Hidden World, this meme depicts a scene in which Toothless the dragon presents himself to a female, copying his rider's actions while interacting with her.
The macro originates from Reddit user lil_zagawy who first uploaded the image to the subreddit r/dankmemes on June 5th, 2019.
Meaning
Although the user-added text may change, this meme is used primarily to describe humorously awkward situations.
In particular it is used when one party (Toothless) acts, another party is shocked/disgusted, and a third party on the sideline (Hiccup) encourages the first party anyway despite the obvious failure.
Examples
Popularity