Where Banana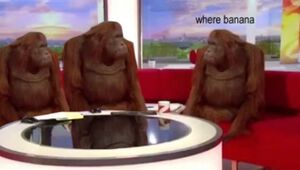 About
Daytime television is a fertile ground for memes, particularly when they are harvested from morning variety shows that are intended to be wholesome but end up being really weird. "Where Banana" is an object labeling image macro that highlights how strange things can turn on these shows.
Origin
In 2017, the BBC Breakfast morning show featured an animatronic orangutan that would later be part of the Spy in the Wild reality television series, which was based on a premise of introducing robotic animals to settings whereupon they interacted with organic counterparts. The bizarre scene of the BBC hosts sitting with the fake orangutan was uploaded to YouTube, and a few months later it was turned into a screenshot making a joke of disassociation episodes.
In late 2019, the image was edited to show a trio of orangutans with the "Where Banana" caption. Throughout the coronavirus pandemic of 2020, the image was modified and posted numerous times on Reddit forums, and it gained popularity once people figured out that bananas have phallic connotations. In 2021, the banana has been replaced with political meanings, statistics, and consumer topics.
Meaning
This meme is ideal for labeling a strange situation along with an ironic reaction to the cruelty of real life. The orangutan wondering where the banana went is invariably the one that reacts to being impacted or left out of reality.
Examples
Popularity
See also