Winnie the Pooh Reading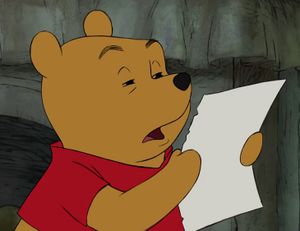 About
"Winnie the Pooh Reading" or "Stoned Winnie Pooh" meme is just that: an image of the honey-loving Winnie The Pooh reading a nondescript piece of paper. The perplexing look on his face is what captivated audiences. The image is a still from "Winnie The Pooh," an animated television series.
Origin
Sweetleafx, a self-proclaimed memer, is credited with bringing the image into the limelight. On December 1, 2012, Sweetleafx submitted the image to DeviantArt, a social networking company. Since making his mark on the digital community, Winnie The Pooh has evolved into a viral sensation. Far more than a teddy bear with a sweet tooth, Winnie The Pooh is also a relatable meme.
Meaning
The Winnie The Pooh Reading meme is used in situations where information is hard to digest. For example, elaborate biblical readings or nonsensical quotes. Some even use the image to express a careless attitude. In other words, not giving a f*ck.
Examples
Popularity