Woman Flashing Post Malone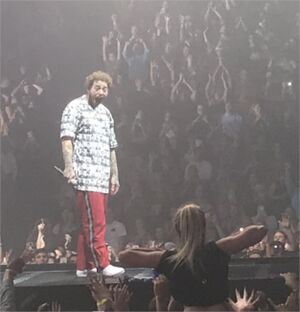 About
There's no need to read between the lines when it comes to the "Woman Flashing Post Malone" meme.
Much like it suggests, the image consists of a woman showing Post Malone her breasts during a concert. Given how close her seat was to the stage, it wasn't hard for the artist to pick her out of the crowd.
The look on Post Malone's face is priceless, and someone nearby was lucky enough to capture the moment. While Post Malone scoops his jaw off the floor, the girl continues to flaunt what she's got.
Origin
The photo came to life at the end of September. Evanprado, an avid Redditor, tweeted the picture, subsequently bringing it to Reddit's platform. On Reddit, the post garnered 200 comments and 5,300 points.
Before long, other meme enthusiasts got their hands on the photo. Sumisu18 shared a rendition of the image that amassed over 27,000 points. In the last two days, everyone has hopped on the bandwagon.
Meaning
The meaning of the meme is far from complex. In short, it's used to express a shocked yet pleased reaction.
For instance, receiving all of the gifts you wanted for Christmas or riding your bicycle without training wheels for the first time.
Examples
Popularity
See also