Years of Academy Training Wasted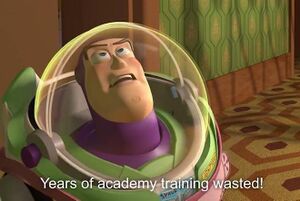 About
The "Toy Story" film franchise experienced a significant year in 2019 thanks to the release of its fourth sequel, which hinted at being the last in the acclaimed series.
Even though the original film was released at a time when internet culture was just coming of age, "Toy Story" memes are not as common as many people would think.
There are only about a dozen "Toy Story" meme variations being posted and shared in 2019, and "Years of Academy Training Wasted" happens to be one of them.
Origin
The source of this single-panel image macro is the first "Toy Story" film dating back to 1995, and it refers to a pivotal scene when Buzz Lightyear, an action figure of a space ranger voiced by renowned comedic actor Tim Allen, finally realizes he is a toy and not a real space explorer.
It took more than a decade for this memorable line from the film to become a meme; during the 2012 holiday season, a Tumblr conversation about knowledge of Harry Potter trivia was lightened up with a two-panel version of the meme.
At the time, the first panel featured Buzz saying "I'm a sham!" By 2018, Instagram users were sharing an animated GIF version, which would ultimately be pared down to a single image panel.
Meaning
This is a meme of self-deprecation; it can be used to describe time that you consider to have been wasted in preparation for a task, a situation or an assumption.
For example, software developers who spent years learning to code in Adobe Flash, AIR and ActionScript can use this meme to vent their frustrations since those programming languages have largely deprecated.
Examples
Popularity