You Know the Rules and So Do I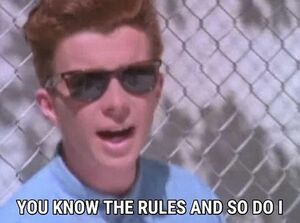 About
Similarly to "rick rolling," this meme originated from a Rick Astley song. People have recently begun to use the part of the music video where Astley sings the lyrics "You Know the Rules and So Do I" as a gif, text message reply or in comments as a reaction online.
Origin
As previously mentioned, this reaction photo or gif originated from the music video for "Never Gonna Give You Up" by Rick Astley.
This music video was uploaded fairly recently- in 2009, and has amassed upwards of 700 million views since. The meme was introduced by a user on Reddit and is gaining in popularity across the internet.
Meaning
More often than anything, it has been used to give nods to positive or wholesome interactions. Many of these include interactions between siblings, pets, or strangers.
It is often used to imply the use of bro code or common sense, espcially in the case of shedding light on the positive side of the human condition. On Reddit, it has often been used in conjunction with other images in order to imply that an upvote is deserved for said meme.
Examples
Popularity