You know, I'm something of a scientist myself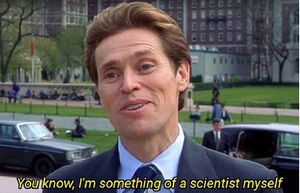 About
If you've spent enough time on platforms like Reddit or 9Gag, you've probably come across a "You know, I'm something of a scientist myself" meme at least once.
The meme features a still from the 2002 movie Spider-Man showing the character Norman Osborn played by actor Willem Dafoe uttering the phrase "You know, I'm something of a scientist myself."
While it might not be the most popular format, it has survived for quite a long time now and it doesn't look like it's going away anytime soon.
Origin
While the movie Spider-Man was already released in 2002, the meme didn't pop up before June 20, 2017, when Reddit user u/MildlyFrustrating posted the image macro to the subreddit r/raimimemes with the caption "When I successfully connect my computer to the wifi", collecting more than 1,100 upvotes.
Starting from there, the image macro began to spread and was posted to reddit in multiple variations, including some with captions that read "When you watch rick and morty[sic]" or "When the teacher talks about Java and you remember that Minecraft is written in Java".
As its popularity rose, the original format gave birth to modified versions, such as the same caption on a different image, users blacking out some of the text or replacing a few words, often the word "scientist". Examples of this include an image with the caption "When your maths teacher teaches you about sin(x) but you already know about sin from church" with the word "scientist" in the caption being replaced with "mathematician".
Meaning
The format is used to boast with one's own experience regarding a specific topic by claiming to be a "scientist". While there are a few variations that might actually be serious statements, it is mostly used in a sarcastic, mocking way, often even poking fun at people who claim to know more about something than they actually do.
Of course, the meaning of the variations with altered caption may differ, and depend on the new caption.
Examples
Popularity