Am I a Joke To You?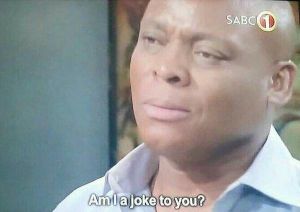 About
The "Am I a joke to you?" was a popular reaction image of a stern-looking man with a funny caption "am I a joke to you?"
Origin
The first time this reaction image was used dates back the 23rd of January, 2016 when it was posted by a twitter user @sizwesabo as a response to a tweet by @Orlandopirates which was about the score of a football match. Basically, the screenshot contains an image of a popular character known as Mziwoxolo 'Tau' Mogale which was played by actor Rapulana Seiphemo. The still image was gotten from an episode of the South African soap opera Generations the Legacy.
Meaning
This meme is one perfect way to react to someone or a situation that makes you feel like you are not important. That's why someone else captioned the tweet "Jimmy Tau to Sizakele Manonga which was right after she dumped him for Bandile"
How far did it go?
When this meme was posted in January, it got a lot of rewets, some people also sampled it with @Simphiwe being the first to do that. He (@Simphiwe) was actually referring to the breakup of a soccer professional player Jimmy Tau and his then fiancé Sizakele Manonga. On the 15th of October, 2018, A Redditor user twakle14 posted the image and he captioned it "me: opens an incognito tab for the 5th time within 1 hour, my PP:"
Examples
Popularity
See also