American Dad Newspaper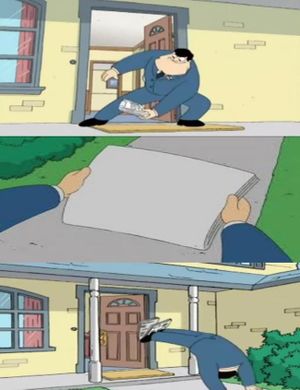 About
The "American Dad Newspaper" meme derives from the hit TV show "American Dad." The show's leading protagonist, Stan Smith, opens each episode with a catchy monologue in which he's seen doing various activities including greeting his family, eating breakfast, reading the newspaper, and heading off to work.
With each episode, there's a new newspaper headline, and meme-goers with editing skills are having a field day creating their own headlines.
Origin
The American Dad Newspaper meme made its way to the internet when Reddit user, ItSeemsLikeThat, caught wind of the clip on March 15, 2019.
With some clever editing, ItSeemsLikeThat created a three-paneled image in which the newspaper's headline compares Fortnite to Minecraft. The image garnered over 45,000 upvotes, prompting others to craft their own bizarre newspaper headlines.
Meaning
The American Dad Newspaper meme serves as a way for individuals to broadcast their newsworthy opinions.
However, many take the opportunity to voice insignificant perspectives as a way to further emphasize the meme's ridiculousness. Some headline highlights include "it's okay to like traps" and "I have no idea what this format is or how to use it."
Examples
Popularity