Angry Man Pointing at Hand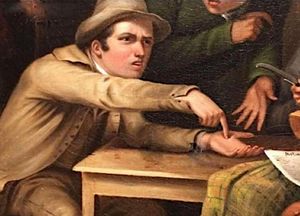 About
The "Angry Man Pointing at Hand" is a meme that is used to express anger or as a clear indicator that someone wants something to be given to them.
Origin
It is based off of a painting called "The Village Politicians." Various images that have been credited to artists David Wilkie and John L. Krimmel have been used.
The portion that is used is a cropped section that shows an agitated man, sitting at a table, pointing to the open palm of his hand.
The first use of this work in a meme was by Redditor Ducks_r_awsum, who added the caption, "When you see somebody who owes you money," to the cropped picture.
It gained little traction until the Classic Arts Meme Facebook page posted the image with the caption, "Someone: *opens a bag of chips*." That picture was shared more than 21,000 times and received over 27,000 comments.
Meaning
The angry man in the painting has an expression that is part sneer and part condescending. The artist did a brilliant job of displaying his snarky attitude and anger at his surroundings.
The finger pointing at his palm clearly indicates that he expects to be given something.
It is a great picture to use to indicate wanting something immediately, such as the bag of chips.
Examples
Popularity
See also