Ant-Man on Security Camera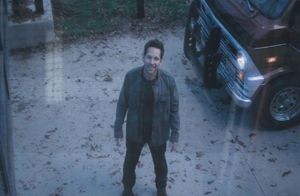 About
"Ant-Man on Security Camera" is an image macro-based meme that comes from Marvel's 2019 superhero film, Avengers: Endgame.
The macros use a still from the film that features Ant-Man appearing on a security monitor.
Origin
The first trailer for Marvel's Avengers: Endgame was released on December 7th, 2018.
As with many Marvel trailers, the intensity of the video is cut by a humorous moment towards the end, in this case, part of a scene where Ant-Man (played by Paul Rudd) arrives at the Avengers compound's front gate and is seen on the security camera's feed by Black Widow (played by Scarlett Johansson) an Captain America (played by Chris Evans).
Over the next several months, the post received nearly 96 million views.
Meaning
Generally the meme is used by highlighting Ant-Man's lower tier status, as compared to the rest of the team, with an emphasis on "lowered expectations" or the "averageness" of Ant-Man himself. One example of this is the Instagram post by @shieldposting, joking that Ant-Man is here to pick the Avengers up for their Uber ride.
Several other versions of the meme focus on Ant-Man's cheery demeanor—a stark contrast to the grim conversation Captain America and Black Widow were having in the moments before he arrived—such as the one posted to Reddit by jervisTL on May 1st, 2019. Captioned with a joke about seeing yourself on a grocery store security monitor, the post received more than 86.6k points (94% upvoted) and 424 comments over three days.
Examples
Popularity
See also