Baby Yoda Drinking Soup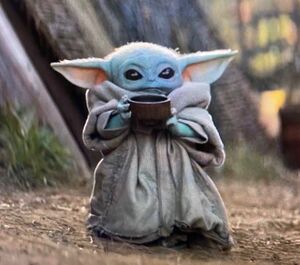 About
Market analysts who had reservations about The Walt Disney Company entering the crowded sector of video streaming services did not take into account "The Mandalorian" and Baby Yoda.
The Star Wars series has been a major hit not only among fans of the fictional universe created by George Lucas but also by newcomers who find Baby Yoda, an infant from the same species as the venerable Jedi Master known as Yoda, irresistibly cute. Thanks to its western and samurai film ambiance, "The Mandalorian" has proven to be the flagship property of the Disney+ service, and it is also inspiring at least a major meme per episode.
Origin
In late November, Chapter 4 of "The Mandalorian" featured a fight scene between two galactic bounty hunters. When the scuffle subsided, the bounty hunters found Baby Yoda snuggled in warm clothing and slurping soup from a mug held in both hands.
On the same day of the episode's initial streaming, an animated GIF of Baby Yoda drinking soup was posted to Twitter, where it was an instant hit. It did not take long for the GIF to become a single-panel image reaction macro that is essentially a new version of the "sipping tea" meme. Even CNN reported on this reaction macro the day after it appeared on Twitter.
Meaning
Basically, this meme can be used as a reaction to anything. Given that it started just before the holidays, it has been used to describe how mothers sip warm cocoa or pumpkin spice latte on Christmas morning as they watch children unwrap presents, but it can be also used to describe a situation when someone calmly sits back to observe the world going mad.
Examples
Popularity
See also