Bill Hader Running From Pennywise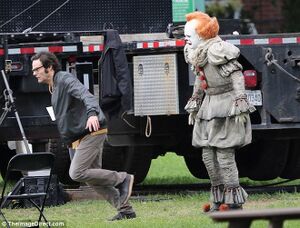 About
"Bill Hader Running From Pennywise" meme emerged from a still image of Bill Hader and Bill Skarsgard. The photo was taken during the production of Stephen King's 'It: Chapter 2'.
The image captures both actors conversing while Bill Skarsgard is in costume. The topic appears to frighten Bill Hader. The comical reaction went viral as many found it entertaining.
Origin
The original photos taken from the spine-chilling thriller, "It: Chapter 2", were initially posted by The Daily Mail on September 18, 2018. Twitter user @bestofhader tweeted the production snapshots on that same day and received closed to 6,000 likes and over 1,000 retweets within months.
During an appearance in January 2019 on the Late Night with Conan O'Brien show, Bill Hader discussed the real context behind the popular photographs. He had simply wanted to know the type of effects used to make Bill Skargard's eyes move in opposite directions. Hader's humorous reaction comes from finding out that Skargard didn't need assistance displaying this unique talent.
A few months later Tweeter @tyrellwellthic tweeted the snapshots along with Bill Hader's insider information that was shared on Conan. In less than a week, the tweet received over 100,000 likes and 40,000 retweets. Within 24 hours, Tweeter @copperinsides followed suit by posting the image captioned "I'm still thinking about Bill Skarsgard scaring Bill Hader on the set of #ITChapterTWO". This post generated over 3,000 likes and close to 800 retweets in just a few days.
Meaning
The irony in the still image generated a lot of buzz and laughter. This meme captures the true essence of questions that should be left unasked.
Examples
Popularity
See also