Bodega Bro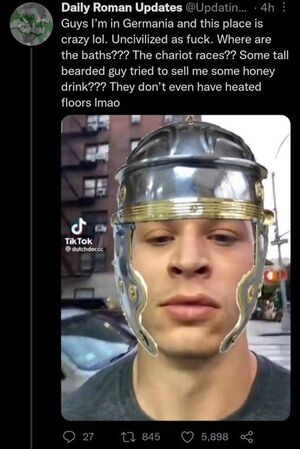 About
"Bodega Bro" refers to a young man fresh out of college from Michigan who moved to New York City for a job at a tech startup from which he was fired after only a few days due to his activity on TikTok. In the video that brought him fame, he is criticizing the quality and limited selection of New York Bodegas. This caused a backlash from the TikTok community who brought his videos to the attention of his new employer.
Bodega bro has been remixed with other memes, placing him in a variety of comedic situations. Memes about this incident often feature one of Bodega Bro's more popular detractors, a TikToker called @dutchdeccc. The two men are sometimes compared side by side as virgin and chad. It is a popular discussion topic in the New York area.
Origin
The story begins in late June 2022. Bodega Bro had to attend his first days at work before his new lease began, so he was living in a short term sublet in The Bronx. He was searching for grocery stores on his apple maps, which kept bringing him to bodegas. As a result, he was unable to find some of the items he needed. He decided to film a fish out of water video about the situation on his TikTok (@grifgreen20).
Not everyone on TikTok found this funny. Some users thought of it as an attack on New York City itself, since Bodegas are a cultural staple. It was perceived as racist, classist, and generally offensive. Other TikTok users retaliated, most notably @dutchdeccc who is often contrasted with Bodega Bro in memes. The fight moved over to Twitter, where users were able to find the young man's new employer, a NYC based tech startup called Outreach. They pulled numerous examples of Bodega Bro being "racist" and "homophobic in his other TikToks as well, including one in which he attends a gay pride event, another in which he recounts wearing an NAACP shirt at the local gym. These videos were sent to Outreach with the intent of getting him fired. Other Twitter users moved to defend Bodega Bro, calling his opponents SJWs and a woke mob. However, their efforts would be for naught. Bodega Bro was already on the chopping block.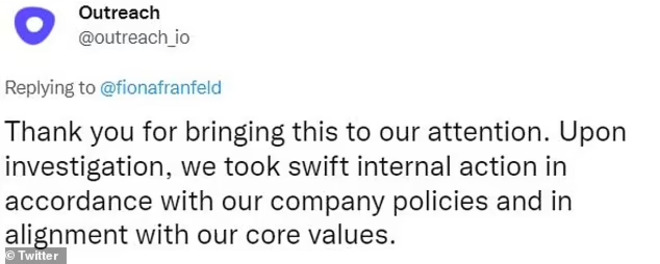 While the hot internet rumor is that Bodega Bro lost his job because of his jokes, the reality is that content in a completely different video was the reason. The "woke mob" alerted the company to the TikTok account, which was carefully reviewed. In an earlier video, Bodega Bro was seen announcing that he had landed the job in New York and was preparing to move. He then shows the employment letter, which states that it is a confidential corporate document. Showing it on TikTok was a violation of company policy and the reason for his termination, at least formally.
By July 1, 2022, the story hit internet news platforms. The Internet had already given Bodega Bro his name and memes were popping up about him on his native TikTok as well as on Twitter. The Twitter trend prompted a presumably automated copy-paste reply from Outreach on every single post related to Bodega Bro. He was a quickly spreading phenomenon in blogs and online news sites in July 2022.
Bodega Bro seems to have owned the meme status. It has earned him a great deal of attention on his Twitter page (@Gbow28), where he adopted the nickname briefly. A supporter has started a crowdfund for Bodega Bro which raised $11k in its first week. He has even appeared on an interview on Newsmax.
Due to this and the Twitter presence, it is safe to say that the conservative community backs him. His future is uncertain, but it seems like he is doing a good job riding the tides of meme fame, which is something that can make or break a person's life.
Meaning
Bodega Bro's predicament brings up a number of social issues. It highlights some of the cultural differences between US regions, which is already a quite memeworthy topic. It has also seen a lot of interest from history enthusiasts. It is an example of the current free speech issue even though Bodega Bro technically did not lose his job for his opinions or for being politically incorrect on social media. In addition, Bodega Bro is not the first to lose their job over online behavior.
New Yorkers were quick to defend their Bodegas, which speaks to the local culture. New Yorkers are known for their pride. Ironically, they are also known for their thick skin, but they are often quick to anger over words. Some New Yorkers are aware of this and it has become a source of jokes. Perhaps this is another element of New York culture that Bodega Bro is not yet used to.
The term "food desert" is frequently used in discussions surrounding Bodega Bro. It refers to urban areas where there is limited access to nutritious foods due to geographic and economic factors. Some users have chastised Bodega Bro for mocking the area, while others have defended him for bringing awareness to food deserts.
Examples
Popularity
See also