Chiellini Pulling Saka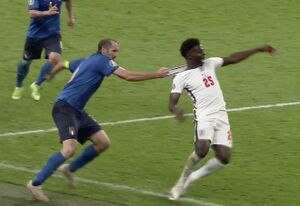 About
This meme is an image of Italian soccer player Giorgio Chiellini English player Bukaya Saka down by his shirt during a game. The game happened to be the final round of the w0w0 Euro tournament The image quickly popular with photoshops and text label memes relating to Italy defeating England in the 2020 Euros.
Origin
During the championship of the 2020 UEFA European tournament, Italian player Chiellini fouled Saka by grabbing him from the shirt collar and pulling him to the ground. Chiellini was given a yellow card for the offense. The foul occured in the 95th minute of the match. Italy went on to win the game in penalty kicks. Videos of the incident were uploaded to YouTube and quickly went viral.
Meaning
This image was immediately used in several memes relating to Italy defeating England in the match or photoshops of pop culture art and history. An example would be Chiellini photoshopped as a rodeo cowboy pulling down Saka as a pig. Another example would be the text phrase "Italy" placed over Chiellini and the phrase "It's coming home" over Saka, meaning Italy prevented England from finally bringing home the Euro championship.
Examples
Popularity
See also