Excavator Digging Out Suez Canal Ship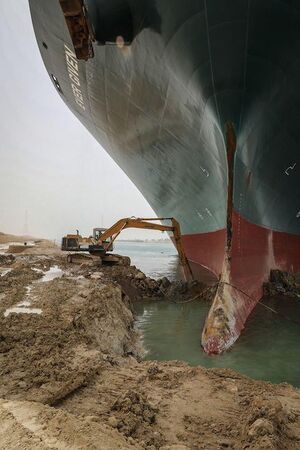 About
After all the pandemonium that was the year 2020, people around the world were looking forward to a less chaotic 2021, but then we had an insurrection on Capitol Hill, a military coup in Myanmar, and a fourth wave of coronavirus contagion in Europe.
As if things could not get any worse, a massive cargo ship became lodged across the Suez Canal in late March, thus causing an accidental maritime traffic jam and disrupting the global supply chain for more than a week.
It took great effort to dislodge the ship, and one particular photo of the accident became meme fodder because of how clearly illustrates existential dilemmas.
Origin
While crossing a narrow section of the Suez Canal on March 23, the cargo vessel Ever Given was caught in a terrible dust storm that caused it to run aground and somehow end up blocking two-way maritime traffic.
A couple of days later, the Facebook account of the Suez Canal Authority posted an image of a single excavator dredging up the shore as part of the effort to release the Ever Given. Even though this was heavy-duty machinery, the excavator looked hopelessly tiny in front of the gargantuan ship. This unlikely David versus Goliath situation was turned into a Twitter meme just hours after the image was posted.
Later on the same day, a clever Twitter user turned the image into an object labeling image describing the futility historians often feel within their chosen profession. By the following day, the image macro was all over Reddit, where it was labeled with pensive descriptions of feeling overwhelmed during most of 2020 and 2021.
Meaning
When life comes at you with full force, you feel like the excavator doing its best to deal with an obliterating beast. This image macro is one of the most existential memes we have seen in recent years, and it can illustrate many situations in which hopelessness makes us feel very small and insignificant.
Examples
Popularity
See also