Farmer Hits Bitzer With a Door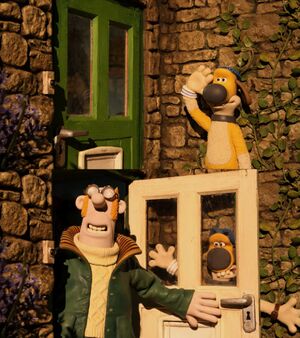 About
This meme consists of two panels. In the first panel, a dog stands at attention, saluting, outside a farmhouse door with a stone wall behind him.
In the second panel, the farmer has opened the door without looking, squashing the dog against the wall. He is looking away and not even aware of the dog trapped behind the door. The dog and the farmer are labeled with identifiers chosen by the meme creator.
Origin
The images are taken from the 2007 first episode of the kids' claymation animated show Shaun the Sheep.
Many of the jokes on the show revolve around sheepdog Bitzer's long-suffering loyalty to the indifferent farmer, and these images provide one such example.
The first examples of this meme began showing up on the Internet in the fall of 2019.
Meaning
The dog is usually labeled with the name of something earnest, well-meaning, or desirable, while the farmer is something that's out of the dog's control, and either ignorant of, or indifferent to, his presence.
Thus, the meaning is of good intentions helplessly crushed by some overpowering force.
Examples
Popularity