Finally, X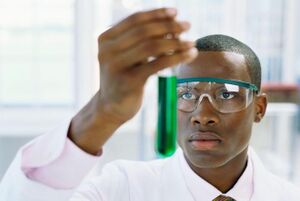 About
The "Finally, X" meme features a stock photo of a male African-American scientist in a lab coat with safety goggles on who is holding up a test tube filled with a bright green liquid. The top caption in every iteration of the meme is simply the word "Finally," and the bottom caption is the space for the punchline.
Origin
The original iteration was created in February 2012 by an unknown user and had the punchline read "Finally, synthetic watermelon," referencing the stereotype regarding African-Americans' affinity for watermelon. It was posted to Reddit, WeKnowMemes, and Lachschon among other sites. In July of 2012 the earliest known deviation of this caption occurred, advancing its spread around the internet.
Meaning
The meaning of this meme takes into account the scientific nature of the person in the stock photo, using the word "Finally," to indicate he has been working on it for a long time. The meaning of the rest of it is more crude, citing a stereotype and referencing the man's race in order to illicit humor, successfully or not.
Examples
Popularity
See also