Finn Wolfhard Punching Josh Ovalle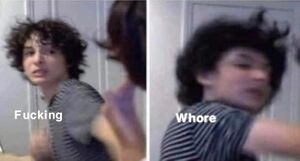 About
The meme known as "Finn Wolfhard Punching Josh Ovalle" is a paired panel reaction image macro that involves Finn Wolfhard, an actor made famous from his recurring role on the Netflix original series "Stranger Things," and Josh Ovalle, a YouTuber. Said image involves Wolfhard winding up a fist in the first panel and then showing the following through into Ovalle in the second panel.
Origin
Josh Ovalle uploaded a video to his YouTube channel titled "HOW THE MATRIX RUINED MY LIFE" on September 19, 2017.
The content of this video involved Wolfhard claiming that he and Ovalle resort to punching each other in the face whenever they come to a disagreement that they have to overcome. In the three years since this video went live, it has garnered just over 1 million views.
Meaning
The meme has been used in a variety of situations, often with the first image featuring some frequent irritation or comment and the second image either continuing with the traditional image of Ovalle or replacing it with a completely different image and continuing to make the point.
Examples
Popularity
See also