For Legal Reasons, That's a Joke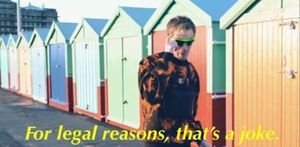 About
Made famous by international YouTuber PewDiePie, the "For Legal Reasons, That's a Joke" meme appeared in a music video on PewDiePie's channel.
PewDiePie, better known as Felix, is touted as the king of YouTube. Most prominently known as the most-subscribed YouTube channel, PewDiePie is a legend on the platform.
That is until T-Series, an Indian music label, surpassed him in subscribers. When T-Series eclipsed PewDiePie, Felix made a cheeky music video aptly titled "Congratulations."
Origin
The PewDiePie vs. T-Series feud is relatively new. When it became apparent that T-Series was closing in on PewDiePie, Felix leaned into the joke and challenged T-Series to an unprecedented YouTube duel. It was ultimately one-sided, with T-Series turning a blind eye to Felix's lighthearted antics.
Felix continued to have fun with the joke, subsequently congratulating T-Series after their channel prevailed in subscriber count. Within the song, PewDiePie alludes to the fact that T-Series is in cahoots with the Indian mafia. Felix quickly covered his tracks with the following lyric: for legal reasons, that's a joke. He delivers the line once more for emphasis.
Meaning
The For Legal Reasons, That's A Joke is used to downplay patently offensive and illegal jokes. It's also used to highlight how sensitive some people are. In other words, those who can't take a joke.
The meme is usually followed by crude, snide, and insulting remarks including "I hacked your phone" or "I want to kill myself."
Examples
Popularity
See also