Get Nae Nae'd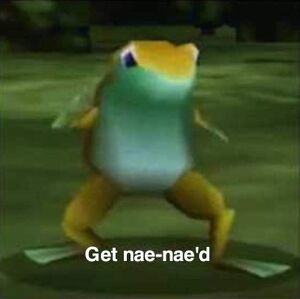 About
Memes do not need to have a single source of emergence; in some cases, they may be influenced by more than one cultural reference, and this is certainly the case with "Get Nae Nae'd".
This image macro and GIF reaction is generally used as a stump expression to signal an amusing end to an argument, and it borrows elements from the 1990s wave of female hip-hop, dance moves, Afro-American slang, television comedy, and video games.
Origin
"Getting nae nae'd" is an American slang expression that dates back to 2013; it means getting obliterated, to the point of embarrassment in a discussion.
The Nae Nae itself is a celebratory hip-hop dance move inspired by a skit in the "Martin" comedy television series that aired on the Fox broadcast channel from 1992 to 1997; in the skit, outrageous character Sheneneh Jenkins was a fictitious member of the musical duo Salt-N-Pepa.
Female rap group TLC also adopted some of Sheneneh's dance moves. Fast forward to 2016, and "getting nae nae'd" was used in a Reddit meme depicting an online conversation that was settled with a bit of trash-talking and a final stump.
A year later, the meme evolved with the use of a screencap and a GIF of a dancing toad from the Final Fantasy VII video game.
Meaning
This is a dynamic meme that can be used for just about any argumentative situation that calls for a funny stump.
One example would be when parents deride their children for not doing anything, but in the end getting nae-nae'd when they realize that their children managed to ruin their marriage.
Examples
Popularity