Greta Thunberg Arrested In Germany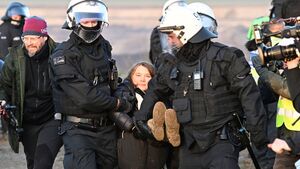 About
The "Greta Thunberg Arrested In Germany" is a satirical image that has circulated online, depicting the teenage climate activist being taken into custody by police. The meme is not based in fact and has been widely debunked.
Greta Thunberg is a young Swedish activist who gained international attention for her efforts to raise awareness about the urgent need to combat climate change. Climate experts and political leaders widely praise Thunberg's activism. She has been invited to speak at the United Nations, the World Economic Forum, and other high-profile events.
Origin
On January 17th, 2023, there were reports of the activist getting detained. A certain image of her being carried away by the police while smiling went viral and inspired the satirical image.
Meaning
It's important to note that the fight for climate justice is a real and pressing issue. Thunberg and many other activists are working tirelessly to raise awareness and push for meaningful action to address the climate crisis.
Examples
Popularity
See also